About Us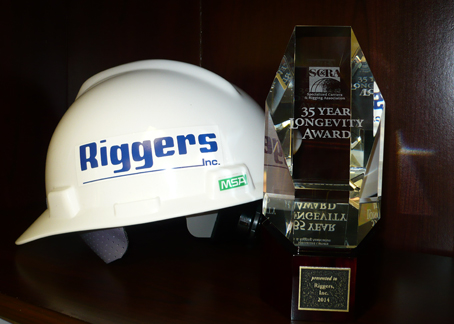 Established in 1975, Riggers, Inc. is a heavy hauling and rigging company that has been providing crane rental services, heavy rigging and specialized transportation services to support the mid-Atlantic region for over forty years. Riggers provides services for a variety of major industries throughout the region with the power sector being our core business. For nearly four decades, Riggers has been following our original founding principal: to give not only an on-time on-budget quality service but to give our customers piece of mind knowing once we are on the job "rigging" is no longer a concern.
COMMITMENT TO QUALITY
As a premier heavy hauling company in Virginia, Riggers believes that there should not be a difference between getting the job done and getting it done RIGHT. Riggers is committed to providing the highest quality crane, rigging and transportation services that are available. This commitment to quality is a core value of our management, project supervision and crews that is reflected in our actions from the planning stages of your project all the way to the safe and successful completion.
Trust Our Company with your Rigging and Heavy Hauling Needs
With many heavy hauling and rigging companies out there, we know that choosing Riggers, Inc. means putting your trust in us. We promise that putting your trust in Riggers is the best option for you. We are dedicated to our clients, and we will perform our duties to your expectations. We will help to load your cargo, transport it to its final location, and unload it and all in a timely fashion. Choose Riggers, Inc. and let us show you that your trust is not misplaced.