Heavy Hauling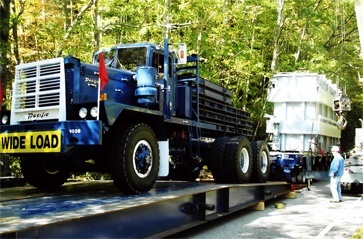 At Riggers, Inc. our heavy hauling equipment is available for rent in Richmond, Virginia and the surrounding area.  Our inventory of equipment includes some of the leading industry manufacturers because we believe in providing you with the best.  We have equipment solutions for any project, no matter the environment.  Our hauling equipment is good not just for on-road transportation but on-site hauling as well.
Our state of the art inventory of heavy hauling trailers includes:
Removable Goosenecks
Lowboys
Flat and Tilt beds
Goldhofer Hydraulic Platform (trailers)
Much More
If you need help with your hauling project, we also offer heavy hauling and rigging services, here at Riggers, Inc.  We can help you haul equipment such as transformers, generators, turbines, and so much more.  Our expert employees can help you no matter the haul and no matter the industry.
To find out details about our heavy hauling rental services, contact one of our representatives today!